KIM GETS A NEW NAME
One day in the clinic with my 12 patients who were waiting for their surgeries, I began to talk with them about their lives, their faiths and the war. After a while, one asked me if I had ever received a Liberian name. I told them no, so they ALL began discussion about me in their tribal tongues. After about 5 minutes, the spokes person said they had chosen a name they thought was appropriate. I was expecting it to be something along the lines of " tall white women", but they began to describe what they had observed and named me GBALLE ( pronounced - Ball-ee) which means "Meek and humble leader".
I was so touched, honored and humbled. I realized how closely they watched us and how very important our conduct is to our witness!
My encouragement to all: be careful to conduct yourselves in a Godly manner, because people ARE watching!
Encourage
Glenn and Kim


E-mail Encouragement
Liberian language..sounds like English...

"How you sleep tonight"
- Hello!

"I'm coming"
-I'll be back

"Don't waste it!"
-Don't spill it

"Overboard"
-Leftovers (food)

"You dry!"
-You're thin

"So!"
-(Come, go or do it) This way

"For true?"
-Really?

"It's your time"
-Your turn!

"Carry it"
-take it

"Yo! Yo! Yo!"
-Yea!!

"Don't be scary!"
-Don't be afraid!

"You look fine"
-You are beautiful/handsome

"Need transport"
-need a ride

"I am vexed"
-I'm mad!

To all who stand beside us,
Our last day aboard the ship was a big one! The ship held their 2nd Celebrate Sight Day! 100 patients and their families came to celebrate and give testimony to what God had done in their lives; to tell others how they had received back their sight and how God had used that to change their lives! Celebrate Sight Day started as an idea Glenn had a year ago to follow up on patients, to allow the ship to participate in what the eye department is doing, and to ensure that the patients return for the all important last procedure that keeps their new sight clear.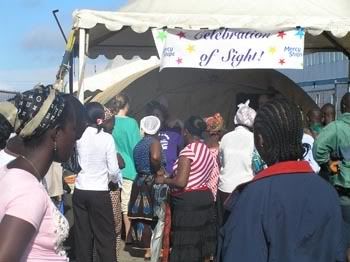 The patients started arriving at 6:30 am and were greeted with balloons, bright costumes and music. Glenn was caught by surprise as one patient leaped at him and hugged him with great enthusiasm and excitement! She was only 4'6", but nearly knocked him over!! It was really a highlight for many on board to be able to see the joy of being able to see again! One man looked at me and was clapping and laughing and saying " I can SEE you! You are white! Your shirt has flowers on it! You are wearing earrings that look like hoops! I can SEE EVERYTHING!" and he continued to laugh and clap and tell everyone who would listen! Another little 7 year old girl came all dressed in her Sunday best. As I gave her cookies to take home, she quietly told me " now I can go to school" and then slowly revealed her big shy, thankful smile! What a blessing to be able to do this and witness how lives are changed! All the testimonies were around praising God for this amazing gift to them. One Muslim man came over to me privately and said " I thank Isa Al Masih for bringing you all here and for His doing this for me" He was referring to Jesus, so I told him, "yes, it was He who did this for you and it is He who we follow" He actually shook my hand and thanked me (something not normally done in the Muslim culture). Many asked about having their other eye done. Unfortunately, with so many in Liberia that are totally blind with cataracts, we told them that we do one eye for them and one eye for their "friend" so that we have enough space to allow both to see. They are very willing to accept this.
One more story.... a 16 year old boy who had one damaged eye and one with a cataract. We removed his cataract, but on this day he was still sad. I sat with this handsome, quiet spoken young man and he told me he still could not see clearly. He was hoping to be able to go to school again, but still could not see the letters. I went and got several of our donated reading glasses for him to try. The first made no improvements but I remembered a pair that were really strong that we had put aside because they too strong for most. The minute he put them on, his face brightened and he took a deep breath and gasped " I can see it!" In tears, I hugged him and thanked God with him!
We left the ship with bags packed at 2pm that day agreeing with Psalm 75 "We give thanks to Thee,O God, we give thanks, for Thy name is near; men declare Thy wondrous works!"
In Thanks to Him who does marvelous things,
As we look toward this next week and the future, we are asking for prayer. Glenn has developed a program plan that will help focus Mercy Ships for the future. If ratified and implemented, we believe it would make us more effective in both our mission to bring health care to the developing world and our message of God's love to advance the kingdom. It will help us be more accountable for the resources we have and make us better stewards of those gifts. Please be praying especially these next 3 weeks for the international meetings where these ideas will be presented.
"Therefore, since we have a so great a cloud of witnesses surrounding us, let us also lay aside every encumbrance, and the sin which so easily entangles us, and let us run with endurance the race that is set before us, fixing our eyes on Jesus, the author and perfecter of faith..." Heb. 12:1,2
Returning Home

"Every good and perfect gift is from above, coming down from the Father of heavenly lights, who does not change like shifting shadows." James 1,17
After 40 hours in traveling, we have made it home safely . We have also already seen all 4 grandchildren! What a blessing to come home to!! For those who have prayed for our youngest grandson, Noah, we thank you. While we thought he was "out of the woods" before we left, we got an email while on the ship that little Noah would have to have emergency surgery. They operated to correct a blockage to his kidney which was also causing a blockage in his intestines. It was completely successful! He is laughing and playing as all 4 month olds should do!
Many of you have also known about my jet lag woes. For 3 years I have suffered with severe jet lag that left me home bound for 2 1/2 weeks each time I returned. After trying the new medicine the last trip, we realized that I had a cortisol problem that could be easily corrected. Well, it is nothing short of a miracle! After landing in the states, a doctor friend who was with us said I acted like some old man with Parkinson's! But within 30 minutes of taking the medicine.. I came back to life! He was amazed at the transformation and we were extremely thankful to the Lord for revealing the solution to this debilitating problem! (Glenn especially since he doesn't have to drag me through the airports any more!)
As we rest up before Glenn's big meetings with the International Management team this weekend, we praise God for the health He has given to us and our family, for safety in travel and for you all and the prayers and concern you have offered us. Thank you!