Dear Friends,
In John 15:15 it says: "No longer do I call you monkeys...but I have called you friends!" At least this is how the Liberians translate it! When a VIP is coming, police shout "NO MONKEYS". Everyone scatters. Evidently the phrase came from the fact that the baboon reigns in the ape world in Liberia and the monkeys are the lowliest. What they are saying is that unless you have a high title, you are as low as a monkey. To them, John 15 means that Jesus no longer sees them as monkeys, but friends and sons! When one of my translators was sharing the Gospel with our patients, she kept saying "there are NO monkeys here in the sight of God!" Now, I understand!!
Our experience with the President of Liberia this past weekend was unbelievable. The pictures will help tell the story. The story begins in 2005 when Glenn was invited to a church service. Afterward, the pastor told him of the church's vision to provide health care for his community.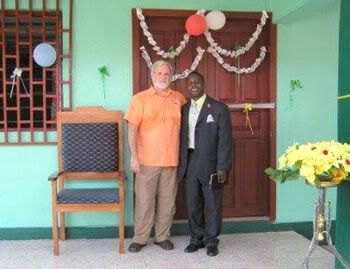 This poor community of Gaye Towne puts their sick into a wheel barrow and transports them up this awful dirt road to where they put them into a taxi.

The church had a vision to use the land they owned for a clinic instead of a church building so that they could serve their community. This clinic would serve the whole person medically, mentally and spiritually through basic health care offered by medical professionals who are out of work in their church. They will also hold health classes to teach the community about HIV, hygiene and Biblical views on health and community. Glenn developed the idea and we had the privilege of participating in the dedication of this new clinic last weekend! What a celebration! Their pastor was in tears! Even one of the Muslim Leaders from this community came to the grand opening! He was very pleased they would be serving Muslims also! The most amazing thing was that President Sirleaf-Johnson herself came and Glenn and the Pastor where seated next to her! You can see also a picture of the diplomats (in their plastic chairs) and one of the houses near the clinic and also a picture of some of the children with one of our doctors.
Both reveal that the poverty and need is clear! Glenn gave a speech to the crowd (as I proudly looked on!) and the two of us unveiled the dedication stone on the building.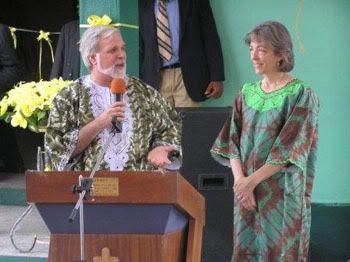 The chairman of the Gaye Town community got up to make a thank you speech and called for GLENN AND I for a presentation!! NO ONE expected this...especially not us! We were presented with new Liberian clothes! And on national T.V., we were asked to put them on...over our other clothes!! (You have to be ready for anything when serving the Lord!)

We felt so humbled to be singled out. Then, one further honor came when we found they had put up a sign designating one room in honor of Dr. Glenn.

As you can see, it has nothing to do with eyes! This came from discussions with the pastor about the need for counseling after the war, particularly marriage counseling. We had found some materials suited for this and gave them to him. He was obviously MORE than appreciative!
Glenn and I became good friends with some of the people in this church (as did our construction team and Community heath educators teams) and we are so grateful to God that He allowed us to be part of the work He had already started. The President herself was so moved by their commitment to their community that she personally donated $1,000! The government will now also come along side to sustain this project, however, their need for ''seed money'' for start up is still big and we ask for prayers that God will supply their every need to overflowing. Once they have started, they will charge only enough to re-supply medicines to make it affordable to all. (And by the way... they have started building their church and it is not even finished yet) The crew here took an offering and we were able to give $1,000 also! Everyone was indeed pleased to have this new clinic and Mercy Ships is so pleased that it will be used to the glory of God! This is a clear example of a church body following Phil. 2:4 which says "Let each of you look out not only for his own interests, but also for the interests of others."
Now may the Lord of peace Himself give you peace always in every way. The Lord be with you all ( II Thes. 3:16)
By His grace, Glenn and Kim