Dear All,
I have been running up and down stairs to take pictures in order to give you a taste of what our new ship the Africa Mercy is like.

I started with our room. This is considered a ''one man cabin'' and these all look alike. The families have several rooms and a small kitchenette. As you can see, we have a small refrigerator (our kitchen which I spent days decorating) and 2 chairs (our living room), our bedroom to the left and our office to the right. We do have our own bathroom (not all rooms do) with a shower that is 16'' wide! Next is our view from our window.

We are grateful to have windows, but Glenn didn't realize the first day that people sit right outside them on that deck and wave at you (while he was undressing!) Otherwise the view is lovely - outside!

On board we have a ''Town Center'' where our Starbucks is. Coffee for us is 25 cents! All our coffee is donated by Starbucks. (Don't be jealous! We do have to bring our own cup!) There is a snack bar at the other corner, with our grocery store next to that. There is a lovely café area with big windows with a view as you sip your coffee.
This is where Glenn gave a concert last night which everyone really enjoyed. (See--- he is wearing his new official scrubs).
Next is the dining room. We like the back left window seat! The view always makes the food taste better - and it needs any help it can get!
Mercy ships had the computer area donated ! These computers are great , especially when they are working!!
Now down 4 floors from our room is the hospital where we work. My hall is long and our blind patients are now easily transported to the other end by a small, orange ''wheelie'' chair. They actually enjoy the ride! Now if this were a scratch and sniff picture, you would also be able to smell the incredibly strong African body odor mixed with urine and hospital smells! It can knock you over!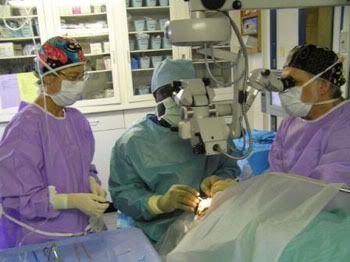 Then there is Glenn training one of the Liberian doctors in the OR. Glenn loves the teaching microscopes and now also has a live camera for other doctor's to view the operation on a flat screen TV while he is operating!
When you are on a Christian ship, you never know what encouragement is around the corner. One day I went back to my room to rest a minute after having to tell one of our patients some difficult news. I was considering the verse in Jeremiah 42:6 "Whether it is pleasing or displeasing, I will obey the voice of the Lord..." To my surprise, just outside our windows, our Liberian deckhands were dancing and singing in their own native tongue while one played a conga drum. They were having a time of praise to the Lord! I caught their shadows on camera as I did not want to disturb their singing. What a blessing and encouragement! They never knew I was even there! It reminded me of heaven revealed in Rev. 7:9 "I looked, and behold..all nations, tribes, peoples and tongues, standing before the throne...crying out 'Salvation belongs to our God'" Won't that be wonderful?!
I hope you enjoyed our tour and hope to see you all one day on the ship yourselves! Blessings to you all.
Kim