Greetings from South Africa!!
Well, we made it! Glenn and I got off the plane, holding hands, after over 31 hours of no sleep and I found myself singing :
" I see skies of blue, clouds of white
Bright blessed days, dark sacred nights
And I think to myself - What a wonderful world!"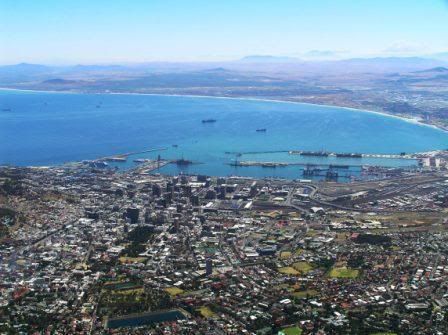 God provided a safe trip, no sickness and a beautiful place to come to. This is our first time to this area of the world. We arose at 6am Tues. morning and arrived at 9pm Wed. night! This started our surreal experiences in South Africa. We arrived in Cape Town and a family from one of the churches put us up in their home. South Africans are quiet, very polite people. ( I find a hearing aid would be useful!) They are also hospitable and no one, from the CEO to the doctor to the maid would ever dream of having you without offering beverages and apologizing profusely if they are distracted from this duty momentarily!
The country is the size of an upside down Texas, but as we drove clear across it, we encountered a wide variety of terrain over every mountain range. In Cape Town, we went to one of their beautiful beaches! Turquoise water and white sands with low mountains on three sides! Already not a typical beach, but it was even more surreal when we saw the penquins!! Lots of them! On our 8 hour drive from Cape Town to East London, we began at a very cool "California coast", then "New Mexico tumbleweed", to "Hawaiian rolling green hills", to " Ozarks", through "Piney woods of Texas", on to "Lake Tahoe"! We stopped and toured through a small African safari region ( which means you drive and drive with eyes peeled for ANY wildlife) and actually saw a family of elephants, zebra, ostrich, kudu, worthogs, and a very rare appearance of two male lions sleeping under a briar!! What an experience!(although I kept MY windows closed!)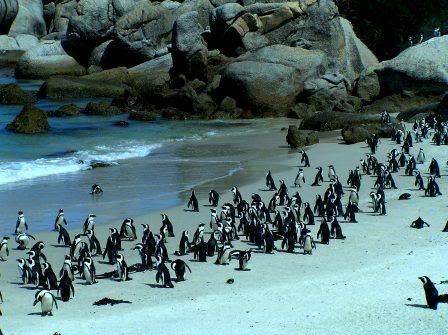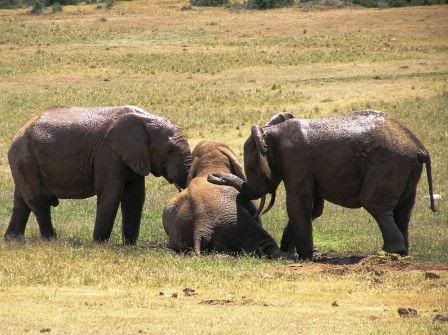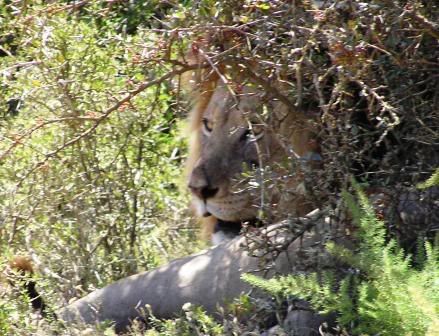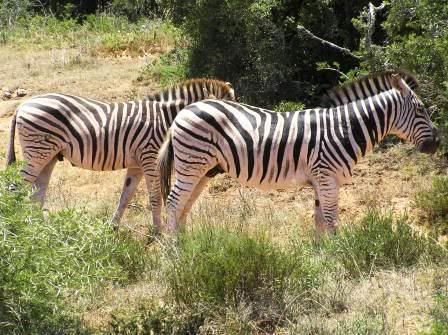 We left that hot African atmosphere and drove on. Back on the road we now found ourselves in "the Smokey Mountains" with creeks and waterfalls, next at the Florida coast (with its heat and palm trees), then on to "Wisconsin Dairy Farm land" ( except for those 25 zebras on one farm and hundreds of ostrich on others ) but plenty of black and white milk cows dotting the hills. We ended up in a New England type town, very quaint (except primarily black residents). I felt we had crossed the United States in 8 hours!! Definitely surreal!
We have learned that before apartheid, the country was strictly divided into white, black and everyone else was just "coloreds"( including lighter blacks). Although they are more mixed, there has created a problem with tribal people from the interior flooding into the bigger cities and setting up shanty areas to find work. As we drove along the 1st world highways ( except for those monkeys along the side of the road!), we often saw large areas of third world settlements tucked everywhere , even between the highway lanes ( like where we grow bluebonnets in Texas). Very surreal.
So why are we here?? Glenn has been asked to look into what Mercy Ships can do to help with the Cataract crisis here. There are just thousands more blind people than the system can handle. These are amongst the poorest of the poor. He will be talking to government officials , doctors and other non-government agencies to see what already is being done and how we can help. Please pray about what Mercy Ships should be doing. Please pray God will make clear His will for us in South Africa. We are aware that just because there is a need, it doesn't always mean that Mercy Ships should meet it. We want what God has planned.
Being here reminds me of Jeremiah 39:18 that says " Your life shall be as a prize to you, because you have put your trust in Me," says the Lord" These experiences that God is giving us are a prize to us and we are so grateful to Him as we continue to work to follow Him. We almost scrapped this trip due to complications , but the Lord pursued us to continue. And what a prize!! Thanks to all who prayed and are praying.
In His Grace, Glenn and Kim